A well-designed space should be cohesive and thoughtful, never overwhelming.  Like an unfolding flower, it should reveal itself in stages-timeless enough to never become outdated, yet contemporary and at the forefront of current trends to keep the space fresh and alive.  Design should never be boring or staid.
Kae creates captivating rooms that fit the needs of each individual client.  Relaxing, easy spaces  counterpoint with stylish furnishings, lush fabrics, and unique objects d' art- all with articulate attention to detail.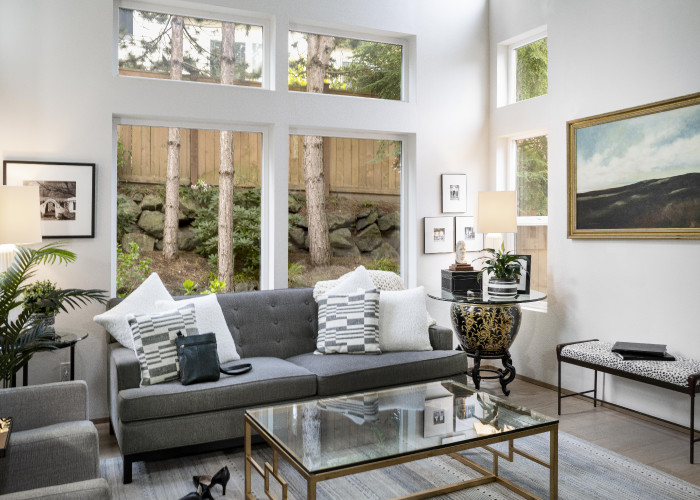 For this project, the built environment was kept simple so the eye could focus on the wall of 18 foot windows and the garden beyond. It bonds the interior and the exterior together representing an organic transitional design.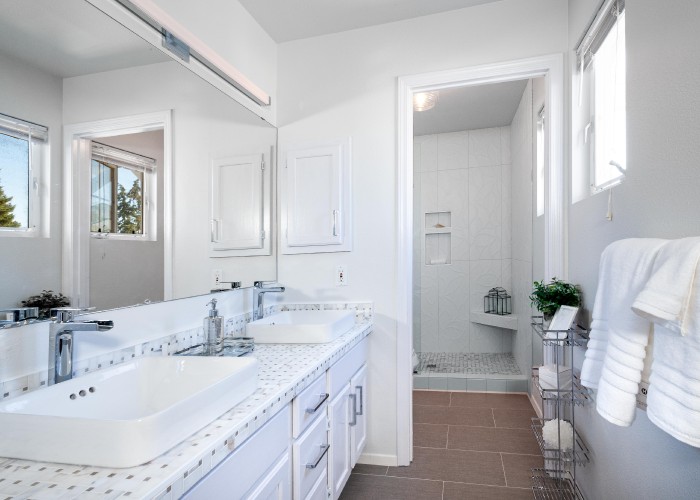 This all white master bath has a Calacatta Gold basketweave mosaic on the horizontal surfaces. Shower walls are anaglypta style.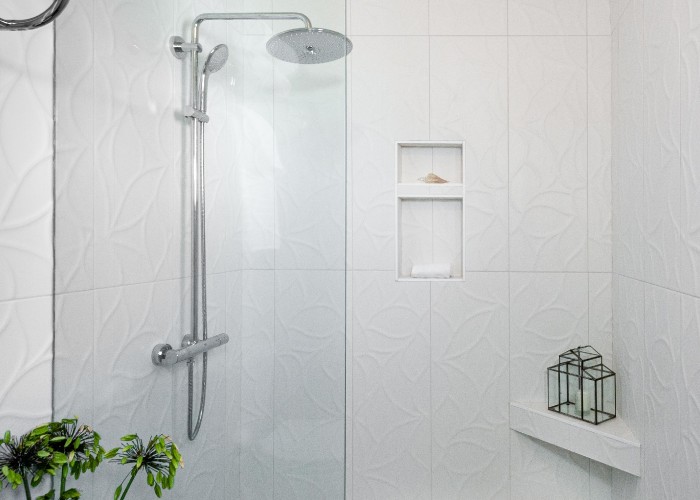 White contemporary master bath. Calacatta Gold basketweave shower floor paired with matte embossed wall tiles in a leaf pattern.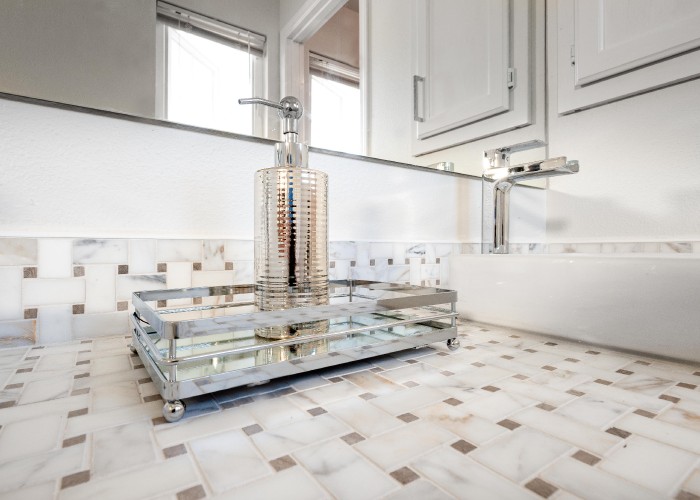 Detailed view of the Calacatta Gold mosaic countertop.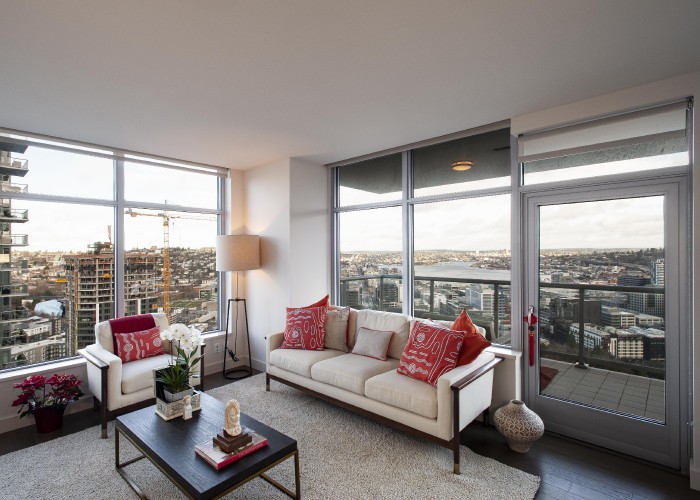 View from 30 stories up. Contemporary condo, Seattle WA.
Open concept design with a breathtaking view of the Seattle skyline.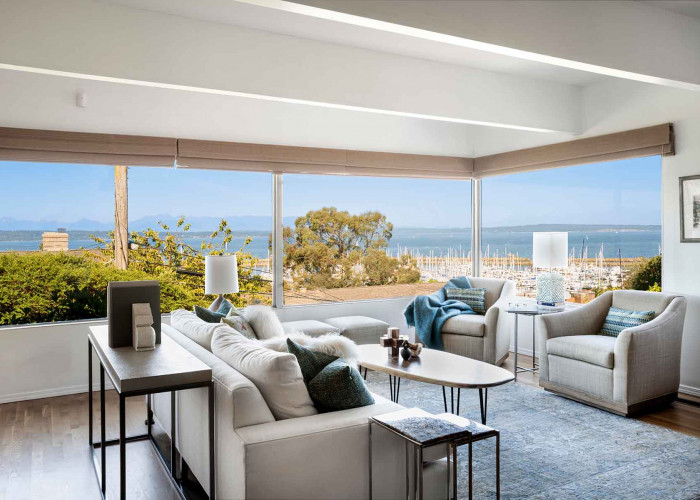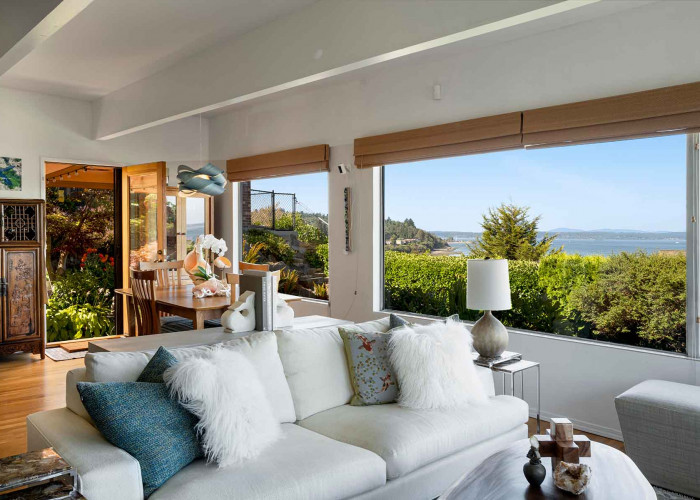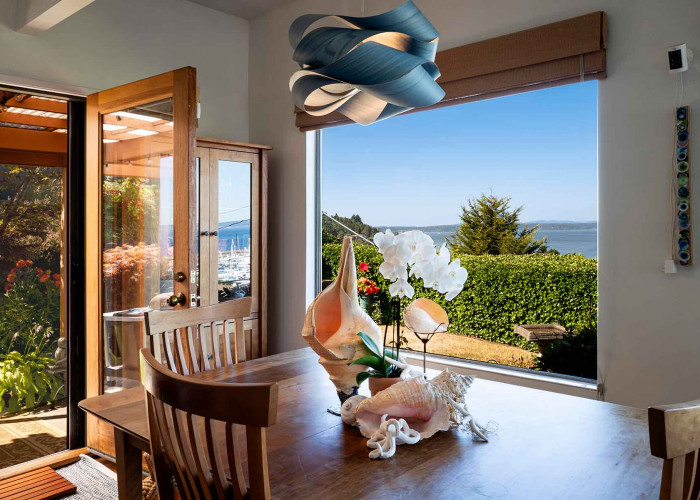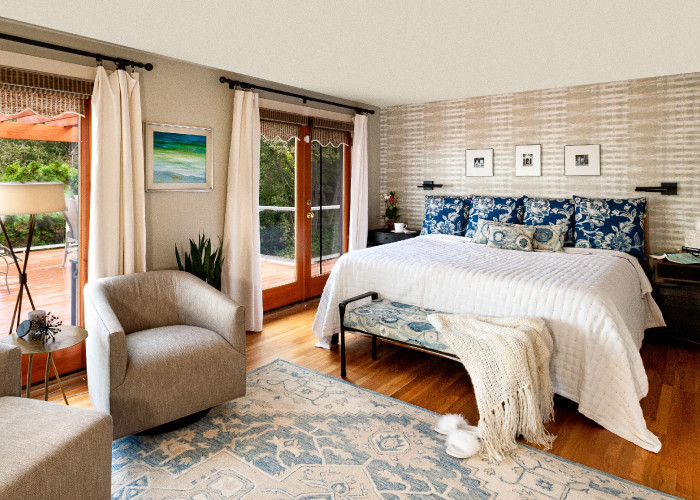 This transitional master bedroom has a panoramic view overlooking Elliot Bay.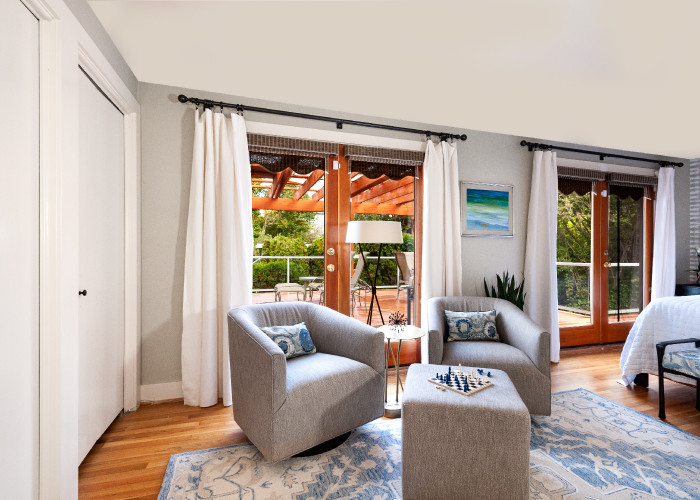 Master bedroom seating area that connects with a spacious deck with a panoramic view of Elliot Bay, Seattle, WA.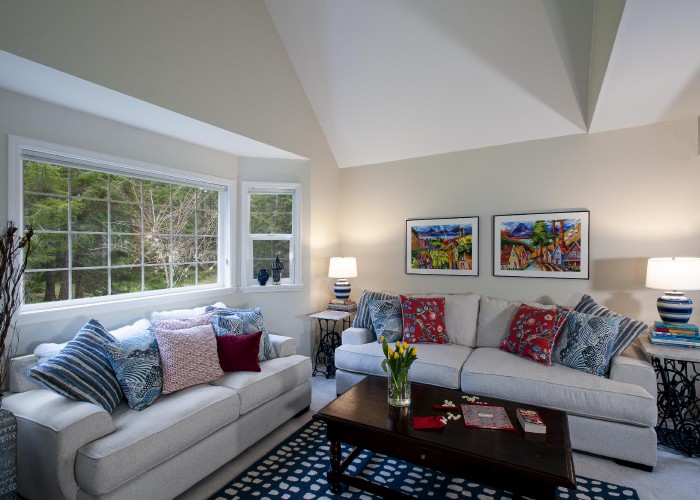 A country modern influence. The following eight photos are all part of of the same ongoing project. Every space in this home is being redesigned, one room at a time. The clients wanted a "happy place" that made them smile.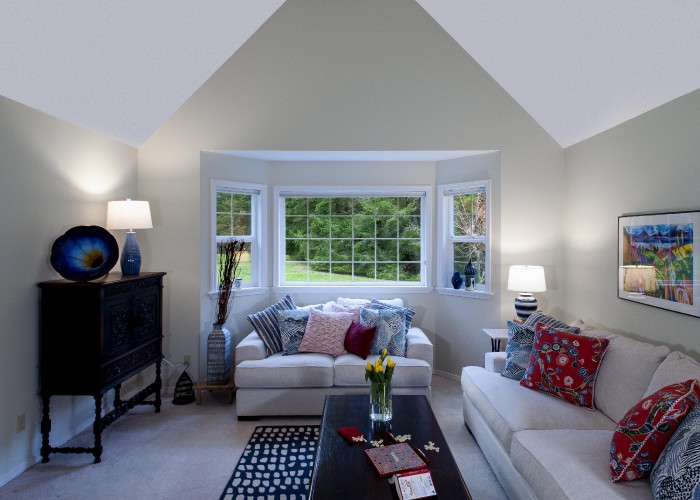 An additional view of the transitional living room which makes use of multiple patterns and bright primary colors. Notice the whimsical polka dot navy and white rug.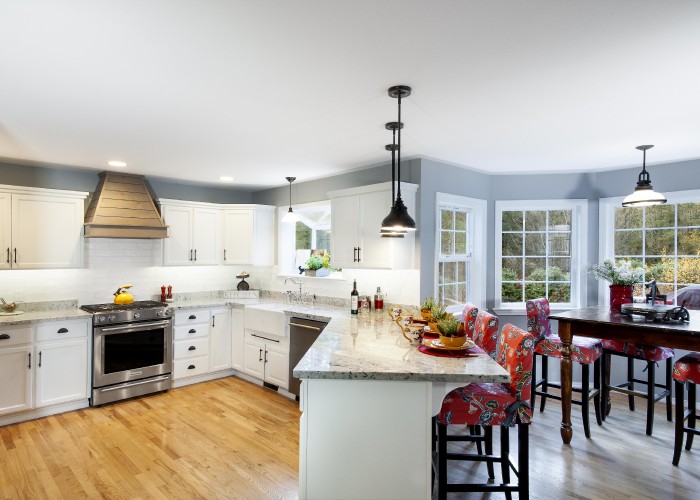 In this space, we did a cosmetic update by keeping the original cabinets, repainting them a fresh white and adding new countertops. Notice how patterns and colors from the living room were reworked into the overall scheme to create a flow from room to room.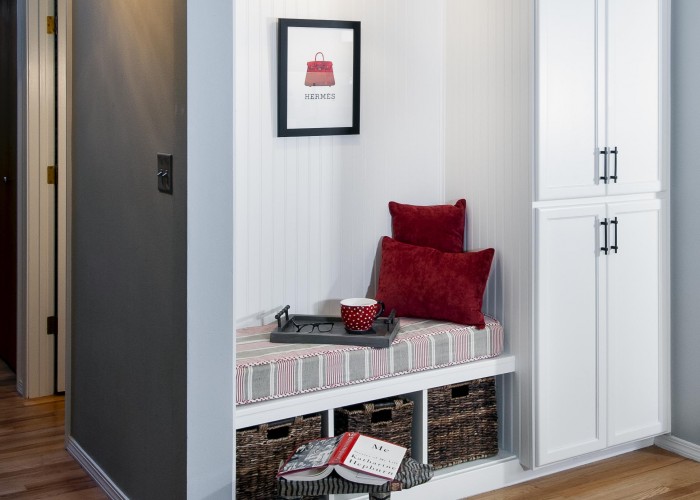 This simple shoe alcove seating area off the kitchen replaced an unused desk nook.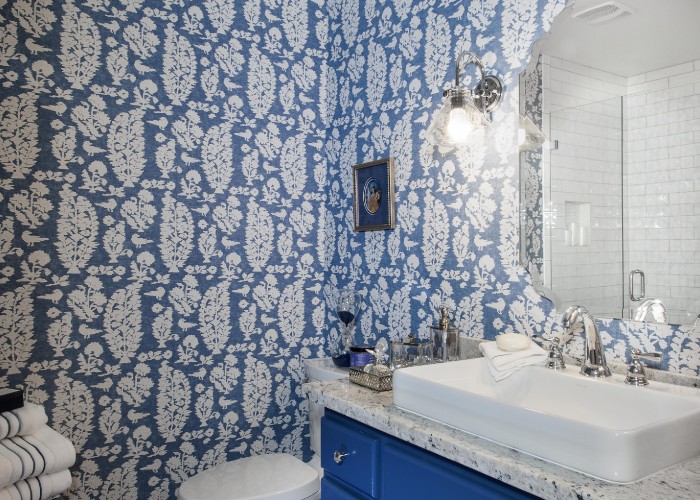 The client had just return from Paris and Kae added a fun "Paris Boho" influence to their powder room.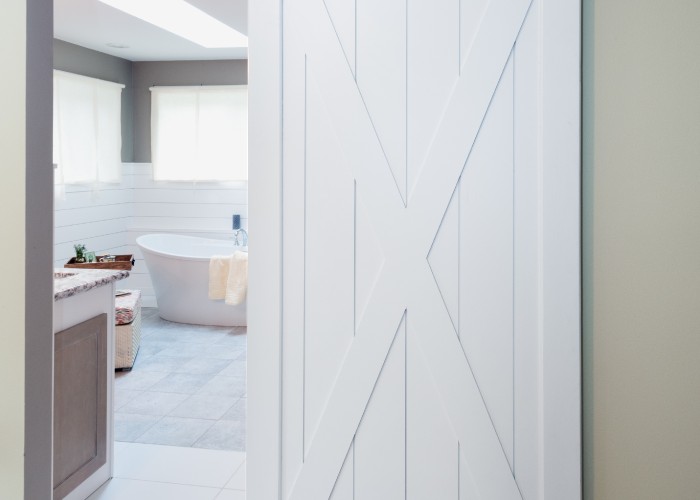 In keeping with the country modern theme, this custom designed barn door is the entrance to the master bath.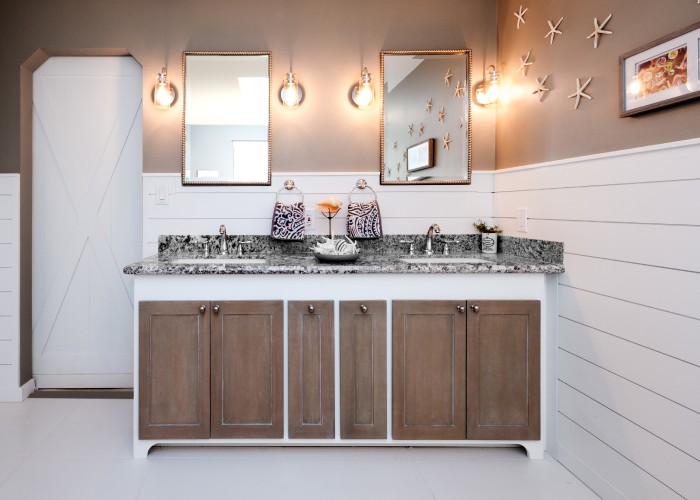 In this master bathroom, Kae designed this vanity using mixed textures to add interest. While the vanity frame is painted white, the doors are finished to look like a sophisticated version of old barn wood.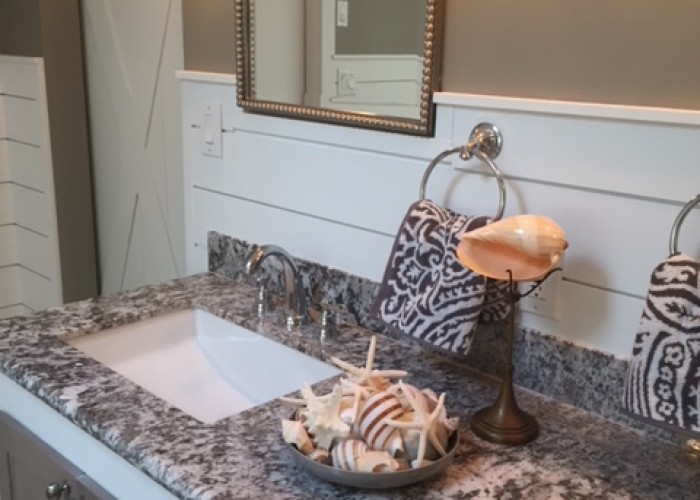 This is a closeup photo of the countertop and shiplap wainscotting that line the walls. This combination of textures not only adds interest to the space, it also frames the vanity and defines it as a strong focal point.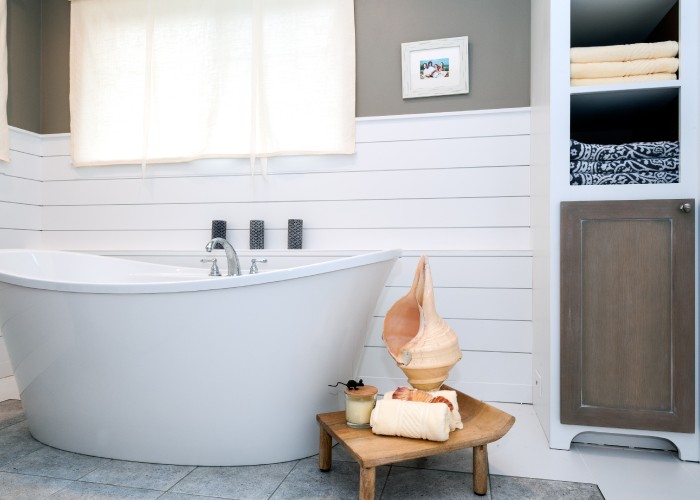 This space originally held a huge antiquated spa tub on a raised platform. Its location made it hard to access the tub. By removing the platform and tub and adding a new free-standing tub backed by shiplap wainscotting, not only was the room transformed design-wise but it increased the overall space within the room. .
The original designed fireplace and bookshelves combination is part of a major remodel.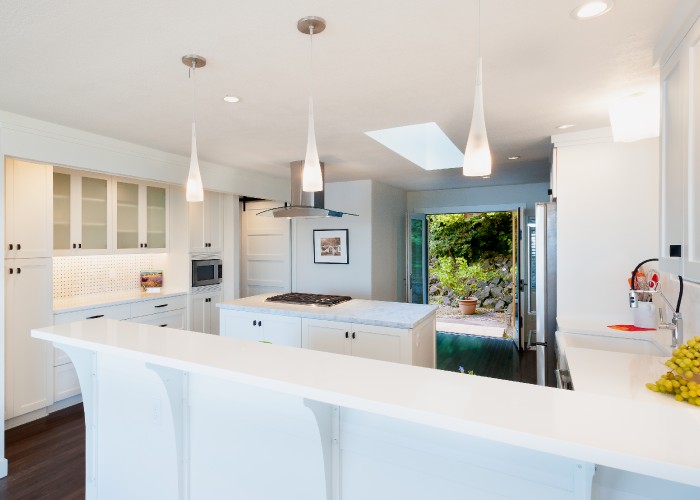 High-end kitchen, Port Orchard, WA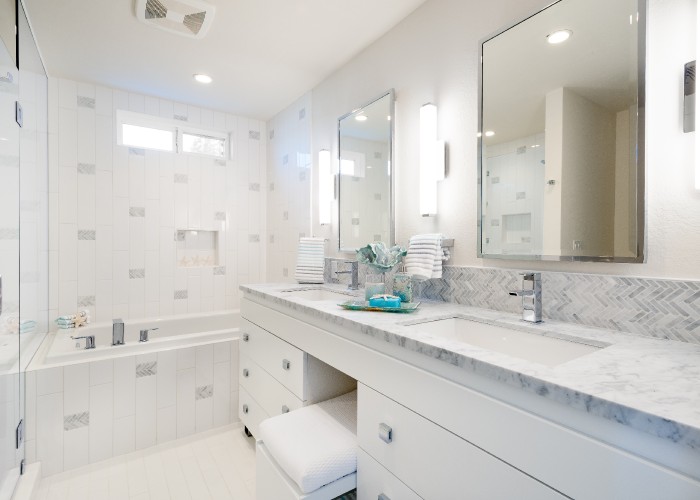 Kae designed this vanity with a pullout bench that can be tucked up into the vanity when not in use.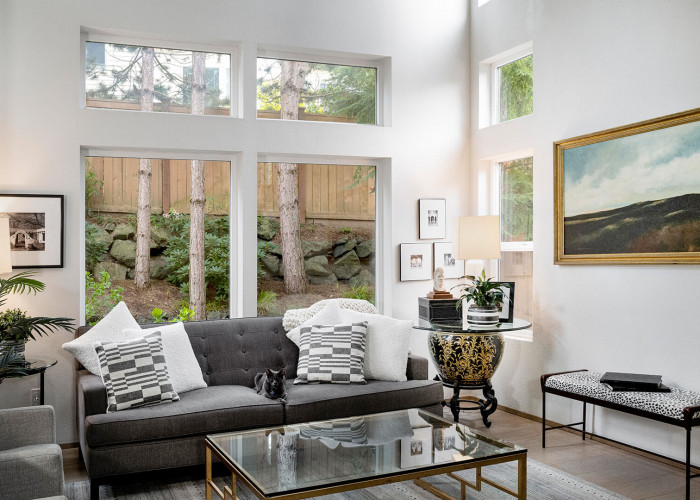 This wall of windows opens the space to the garden beyond.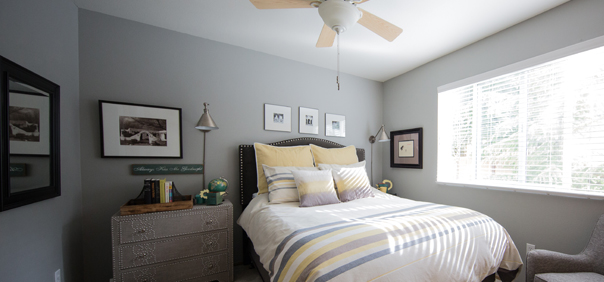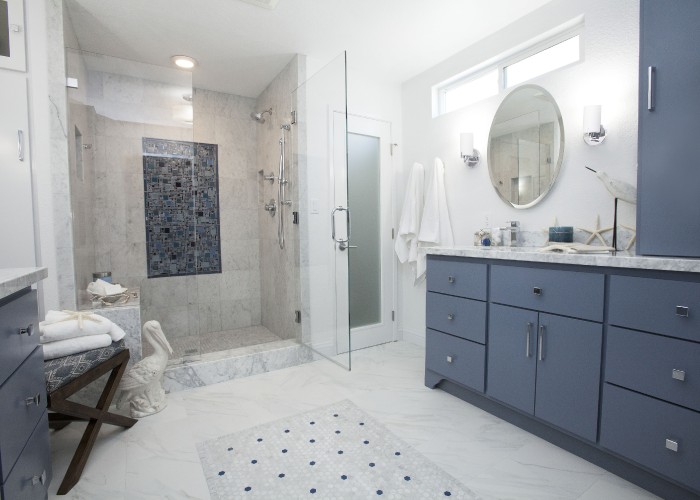 Master bath. San Diego CA. Notice how the rectangle focal point on the backwall of the the shower is repeated in reverse on the floor of the master bath.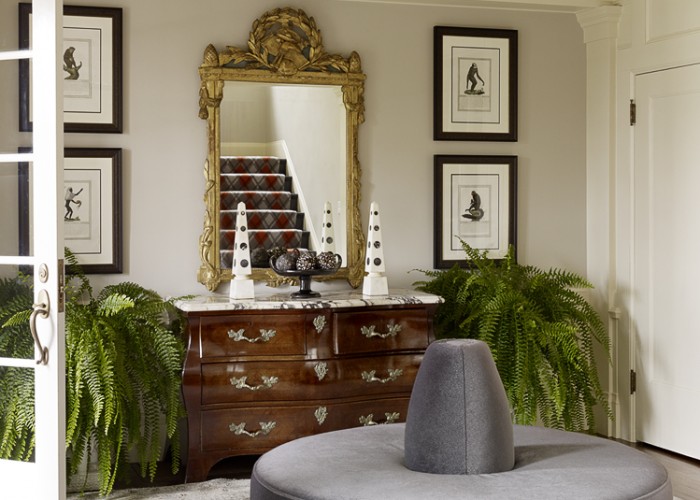 Foyer in Pacific Heights, San Francisco, CA in conjunction with Dara Rosenfeld Design.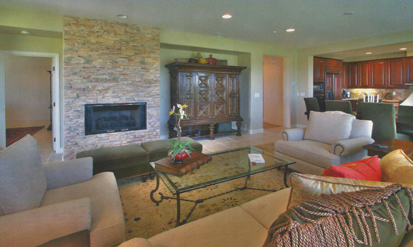 La Quinta, CA condominium on a golf course. Open concept living room.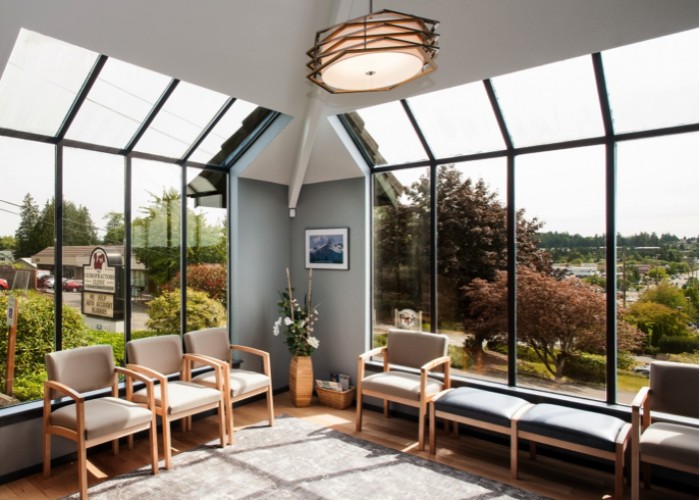 Chiropractic clinic and reception area. Silverdale, WA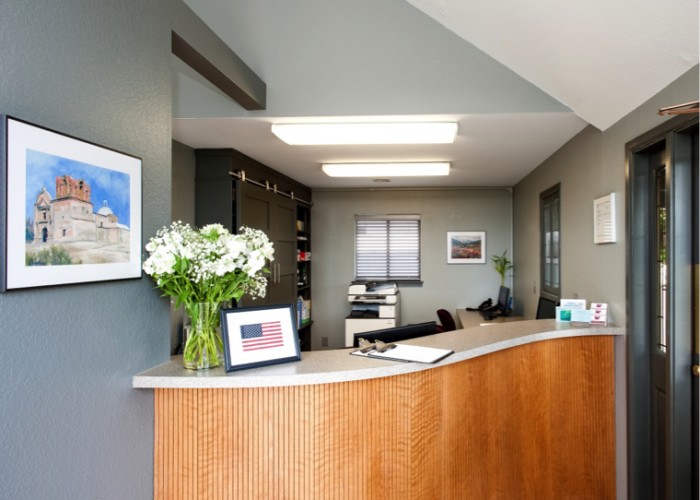 Everything in space was removed with the exception of the curved counter which was kept because it added an unusual and interesting layer to the space. In the office area behind it, track-mounted doors were added to the floor to ceiling shelves.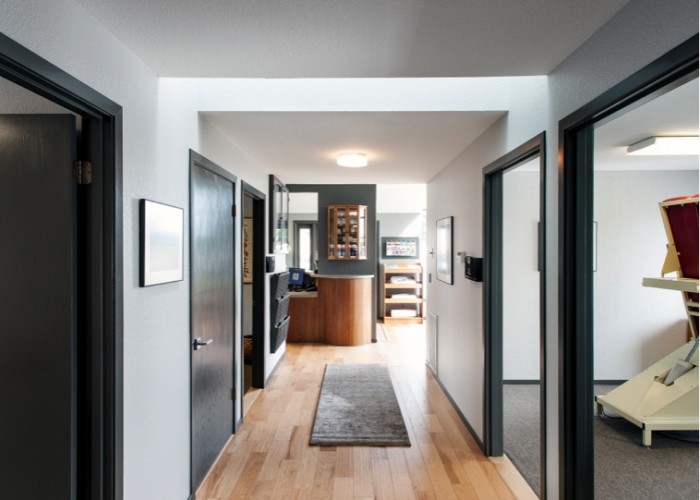 Chiropractic clinic, Silverdale, WA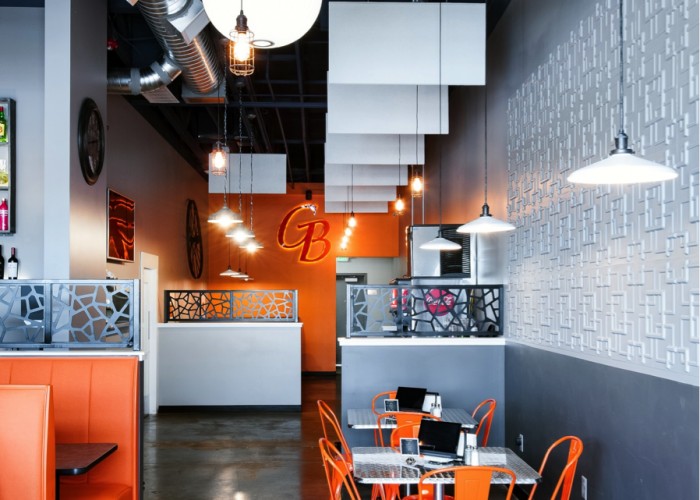 "Groovey Bites" restaurant. Poulsbo, WA
Healdsburg, CA. "PROHIBITION, Speakeasy Wine Club". The front area is a retail space. In the background, an antique telephone booth provides the secret entrance to the bar area.
Healdsburg, CA. "PROHIBITION Speakeasy Wine Club" Secret bar hidden from retail space.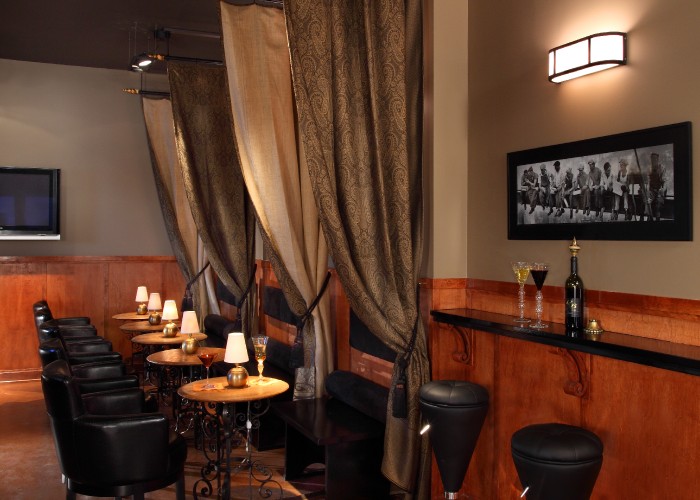 "PROHIBITION, Speakeasy Wine Club. "Healdsburg, CA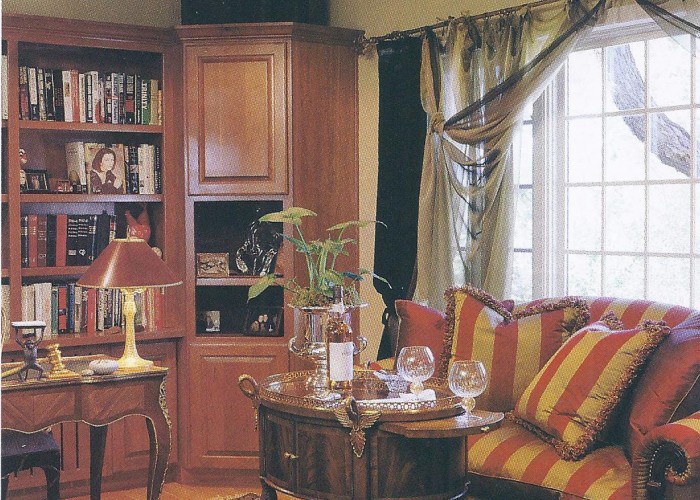 This study is part of major remodel and expansion project in Denver, CO.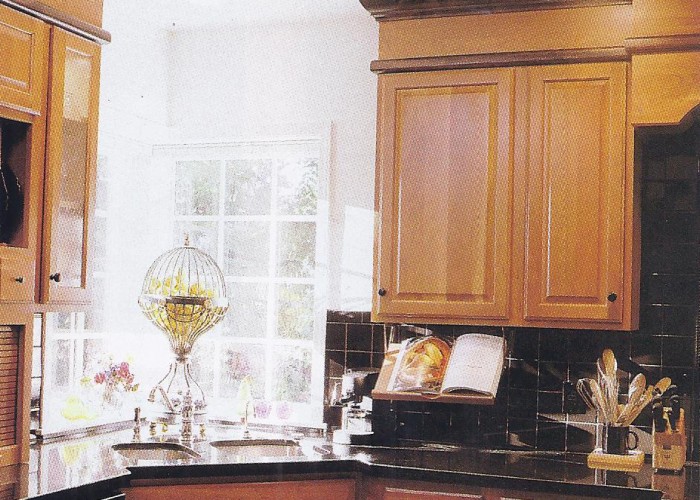 Denver, CO. Bepoke kitchen.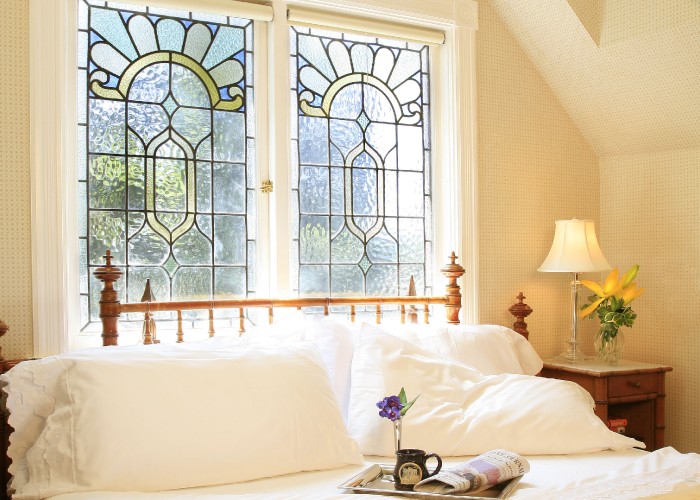 Healdsburg, CA. 120-year old Victorian Inn in the California wine country. A new addition was designed to emulate the original structure with modern conveniences. Furnishings are all Victorian faux bamboo, shipped from England especially for this project.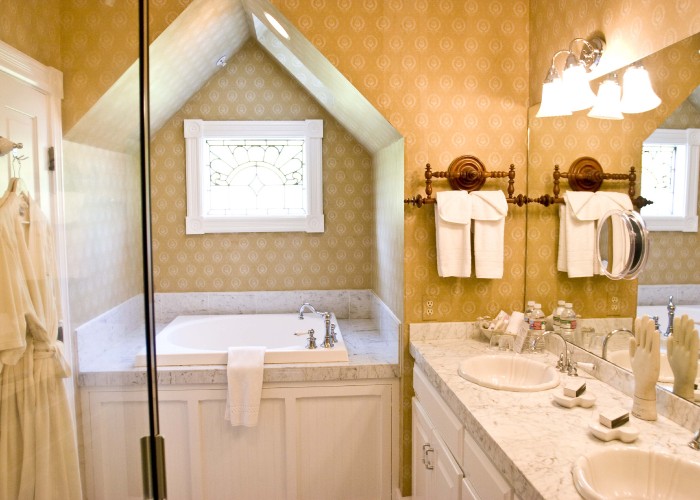 Healdsburg, CA. Part of new addition designed to emulate the 120-year old Victorian structure. This photo is of the Japanese soaking tub located under a gable. The countertops, floors, and shower walls are Carrara marble. Towel holder is antique Victorian faux bamboo.